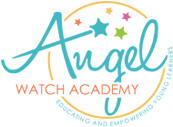 Welcome Angel Watch Academy
Welcome to your child's home away from home. Angel Watch is a licensed family daycare serving infants through kindergarten, after-schoolers, their families and communities. Our mission is to educate and empower young learners by promoting healthy growth and development in a safe and secure environment.
Our activity based learning environment encourage children's early cognitive, social and motor skills. Our daycare center focuses on problem solving, decision making and self-help, while promoting interpersonal communications. These are key elements which contribute to a child's development, self esteem and confidence.
Put your child's future first! We encourage you to schedule an appointment to see what we have to offer.